We are extremely pleased to announce that we have been voted as the 'Best Place in Caernarfon for Service and Atmosphere' by the Restaurant Guru.
The Restaurant Guru is an online site that lets you discover great places to eat and allows visitors to leave reviews.
Check out our listing here or read the overview below.  You can also view a list of our online reviews from various resources including Yelp, TripAdvisor, Fousquare, Google and Facebook.
"Guests enjoy the sights of Bocs Celf and reserve a table for good meals here. British cuisine is to guests' liking at this bar. Make a change from your habitual meal and order mouthwatering meat pies, braised lamb shanks and braising steaks at Black Boy. On the menu, you can choose tasty st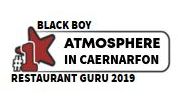 icky toffee pudding, apple crumble and sweet potato pie. Most likely, you'll come back to this place later to try delicious cask ale, draft beer or malt whisky. You will be offered good coffee, tea or juice.
Children can select dishes from the kids' menu. The staff is cheerful that's what makes this spot so nice. Visitors say that the service is fabulous here. From the visitors' viewpoint, prices are affordable. The divine decor and charming atmosphere let clients feel relaxed here. Clients have rated this bar 4.5 on TripAdvisor."
We would like to say a Big Thank you to the Restaurant Guru for this fantastic award.
View our Dining Menu's