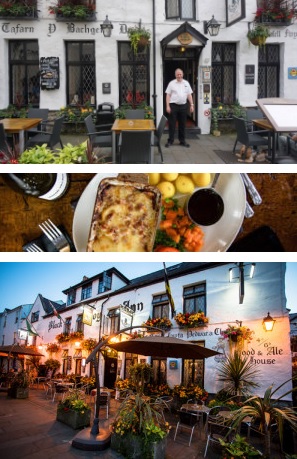 We are thrilled to announce that we have won the award for the 'Welshest Restaurant/ Pub in the World'!
The competition was organised by Arloesi Gwynedd Wledig and provides the opportunity to celebrate those businesses benefiting from using the Welsh language within their business already, and in turn inspire other businesses.
Black Boy Inn were privileged to be mentioned among a final short list of wonderful Welsh Restaurants & Pubs, including Bar Bach, Tŷ Golchi and Whitehall.
The competition winners in this competition were chosen solely by the public, who selected their favourite and 'Most Welsh' establishments.
Results for the competition were largely compiled following a Facebook, Twitter and e-mail voting campaign. The results were as follows:
Black Boy Inn, Caernarfon – 1473 votes
Tŷ Golchi, Bangor – 743 votes
Bar Bach, Caernarfon – 677 votes
Whitehall, Pwllheli – 557 votes
We are overwhelmed with the number of people that voted for us. Your support drives us on to offer the best possible restaurant, pub and inn
experience in our wonderful Caernarfon location!
As always, we invite you to pop in for a drink, bite to eat or if you are after a getaway or adventure – book a room with us. We are widely renowned for providing you with the perfect base to enjoy the Caernarfon, North Wales and Snowdonia regions.