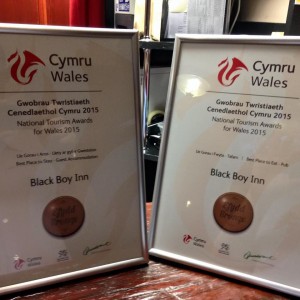 Our great team at Black Boy Inn Bed and Breakfast in Caernarfon are extremely happy and proud to announce that we have been awarded two Bronze awards at this year's National Tourism Awards for Wales 2015! The award ceremony took place on the evening of Wednesday 25th March 2015 at The Vale Resort in Hensol and a number of local attractions, eateries and accommodation walked away with a great achievement and success. Here at Black Boy Inn Bed and Breakfast in Caernarfon we won Bronze in both the Best Place to Eat (Pub) and Best Place to Stay (Guest Accommodation). We are very thrilled to announce this and will be showcasing our award in-house for all to see!
The evening brought together businesses, big and small, from all over Wales for an evening of celebration during a glittering black-tie event. The National Tourism Awards each year recognises great eateries, accommodation and places to visit across Wales. This provides businesses like us to be identified as a great quality place to visit for food, as well as a relaxing place to stay.
For those who don't know the history behind the Black Boy Inn, we are one of the oldest inns in North Wales as it was built circa 1522. After being named several times from King's Arms to Fleur de Lys, one landlord bought another out and that is when the Black Boy Inn was created. We offer our visitors friendly customer service, quality food and beautiful characteristic accommodation to stay in.
We serve a wide range of meals from Steak & Ale Pies to Thai Spiced Crab Cakes, with a range of desserts such as our scrumptious Chocolate Fudge Cake, Profiteroles and Passion Fruit & Vanilla Crème Brulee. In addition, we pride ourselves on our traditional real ale bars where you can sample locally brewed Welsh ales and Local lager. We always want to provide the best of the best for all our visitors and guests.