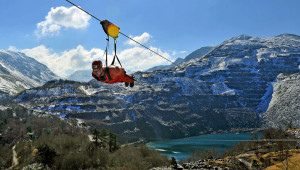 Black Boy Inn is located in the historically royal town of Caernarfon and we are a very short walk from Caernarfon Castle, Welsh Highland Railway and the beautiful Snowdonia Mountain Range. You can visit our Attractions page for ideas on all the possible activities you can visit, plus places to explore during your visit to Black Boy Inn.
There is a lot to see and do in between staying at our bed and breakfast in Snowdonia, eating in our restaurant with delicious gastro and pub food, plus drinking our quality selection of Craft Beers in our bar.
For all the adrenaline-junkies out there, Zip World and Bounce Below are the top two attractions you must book tickets for. Whether you're visiting with friends, family or both, we can guarantee you will have a fantastic time.
Zip World offers their three main attractions: Zip World Velocity, Zip World Titan & Zip World Caverns and then you have the newest addition that is Bounce Below in the Llechwedd Slate Caverns.
Zip World Velocity is the longest zip line in Europe and the fastest in the world; reaching speeds of over 100mph. Zip World Titan on the other hand lets you ride the largest zip line in Europe, but alongside three of your friends as it sits as the only four person zip line in Europe and reaches speeds of up to 70mph.
As for the Zip World Caverns, this is the largest fully underground zip line course that is located in an area that has been inaccessible for nearly 200 years! Although the above may not be suitable for the younger ones, the newest addition that is Bounce Below, lets the little ones run wild.
Bounce Below is the first underground trampoline of its kind in the world. Located in a former slate mine, this is a truly fantastic location to be bouncing around through linked walkways, tunnels and a number of slides.
Keep up to date with our latest news on the Black Boy Inn, events in the local area and the top attractions we believe are worth visiting, by visiting our News page on a regular basis.
Image Source: Pic Bruce Adams / Copy HARDMAN – 3/4/13
https://www.zipworld.co.uk/gallery-velocity.php