Mae Tafarn y Black Boy yn Falch o Gyhoeddi ein bod ar y Rhestr Fer ar gyfer Gwobr Bwytai Cymru 2018.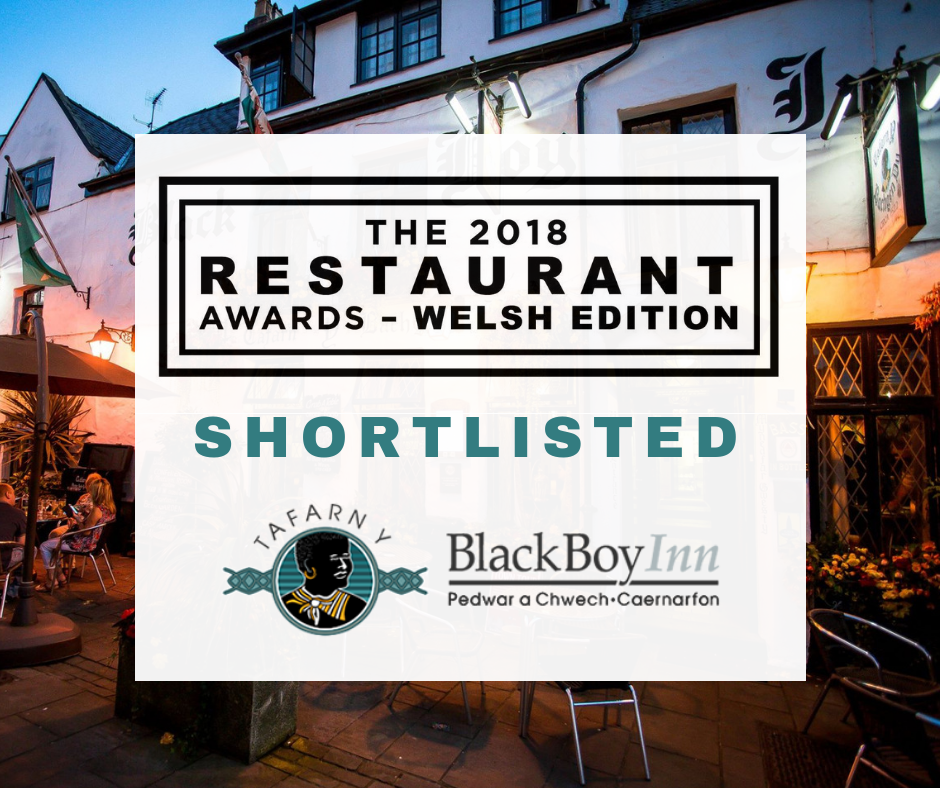 Bydd y seremoni tei du yn cael ei chynnal ddydd Llun 26 Tachwedd yng ngwesty'r Exchange yng Nghaerdydd, lle bydd goreuon y diwydiant bwytai yn dod ynghyd i gyhoeddi'r bwytai sydd wedi cael y mwyaf o bleidleisiau, o'r isaf i'r uchaf er mwyn cynyddu'r tensiwn ar y noson.
Our place in this shortlist means that we are considered in the top 300 restaurants in all of Wales!
Mae'r ffaith ein bod ar y rhestr fer hon yn golygu ein bod ymhlith y 300 o fwytai gorau Cymru!
Croesi bysedd!
Mae'r seremoni wobrwyo arloesol hon yn rhoi sylw i'r bwytai gorau yng Nghymru, sy'n rhoi gwasanaeth o'r radd flaenaf i'w cwsmeriaid ac yn arwain y ffordd o ran gweini blasau unigryw a danteithion gastronomig i dynnu dŵr i'ch dannedd.
Dywedodd cynrychiolydd ar ran Gwobrau Bwytai 2018:
"Mae'r Gwobrau yn ceisio adlewyrchu'r profiadau y mae bwytai yng Nghymru yn eu cynnig o ran bwyd, yn ogystal â gwasanaeth rhagorol, awyrgylch, ansawdd ac amrywiaeth o ddewis."
Rydym yn hynod o falch ein bod yn cael ein hystyried yn un o'r bwytai gorau yng Nghymru, a'n bwriad yw darparu gwasanaeth o'r radd flaenaf a hybu'r Iaith Gymraeg a Diwylliant Cymru gyda chwsmeriaid sy'n dod i fwynhau profiad Cymreig go iawn.
Hoffem ddymuno pob lwc i'r holl fwytai eraill sydd wedi cael eu henwebu!