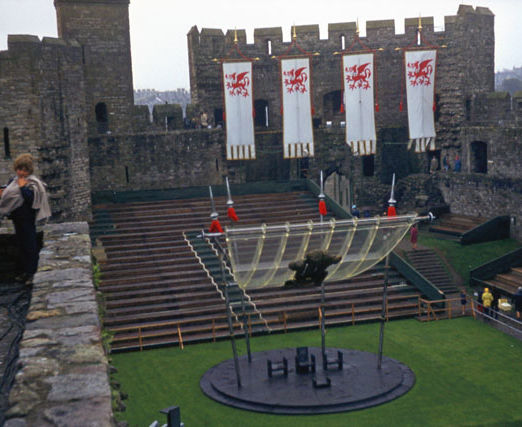 The recent ceremony marking the 50 year Investiture of Prince Charles as the Prince of Wales, took place a mere stone's throw from the Black Boy Inn.
The Prince of Wales has been praised for his above and beyond dedication, love and overwhelming support of the Welsh people. Heir to the throne, Prince Charles who was invested as the Prince of Wales by the Queen on July 1 1969, cut a cake in celebration of the momentous occasion and enjoyed a cup of tea from a lovely china cup with the emblem of the Welsh red dragon.
In 1958, Charles was only nine years old when he was made the Prince of Wales, and then he was formally invested with the title by his mother, in a ceremony of great pomp at Caernarfon Castle, which was televised and watched by 19 million people in the UK, and millions more worldwide. Fifty years on from this significant event, the Second Severn Crossing was renamed the Prince of Wales Bridge last year to honour Charles's 70th birthday.
Charles, the longest-serving Prince of Wales enjoyed a week in Wales, in which he carried out more than a dozen engagements throughout the country. Some engagements included encountering horses in Ty'n-y-Coed Forest, where he met horse loggers in his role as patron of the British Horse Loggers. This organisation promotes using horses as sustainable "base machines" in the extraction of timber. Another engagement included a visit to a Prince's Trust centre in Nantgarw, which involved meeting workers at the charity's helpline and some young people who have benefited from its advice.
Jeweller Mari Thomas was helped by the trust 21 years ago when she was setting up her business – she presented Charles with a set of cufflinks and a tie pin as an anniversary present. The prince was thrilled with the gifts, but made sure to ask how Ms Thomas's business was going – he then proceed to do a small double fist pump in celebration after Ms Thomas informed him she was now employing ten people.
Prince Charles set up the Prince's Trust in 1976, using his Navy severance pay, in order to help young people overcome challenging circumstances, getting into employment or even launching their own businesses. To date, the trust has helped nearly one million young people.