Dewch yn llu! Dewch yn llu!
Mae Gŵyl Fwyd Caernarfon ar fin cyrraedd y dref gyda detholiad o fwyd gwych o bob cwr o'r byd.
Dyma ddathliad sy'n adlewyrchu cymeriad a diwylliant Caernarfon, yn dathlu bwyd lleol, yn difyrru ac yn addysgu'r cyhoedd, gan gynnwys busnesau bwyd lleol. Yn wahanol i wyliau bwyd eraill lle welwch chi faniau burgers mawr o'r ddinas yn tynnu wrth fusnesau lleol, mae gan ŵyl fwyd Caernarfon fwriad arbennig i helpu'r economi leol i ffynnu. Mae gan bob busnes bwyd lleol gyfle i gymryd rhan. Mae'r Black Boy Inn wedi cael effaith uniongyrchol ar ddatblygiad y dref ar lannau'r Fenai – ac yn rhan annatod o hanes y dref ers y 15fed ganrif!
Felly, mae'n gwneud synnwyr bod gan The Black Boy Inn stondin yng Ngŵyl Fwyd gyffrous Caernarfon.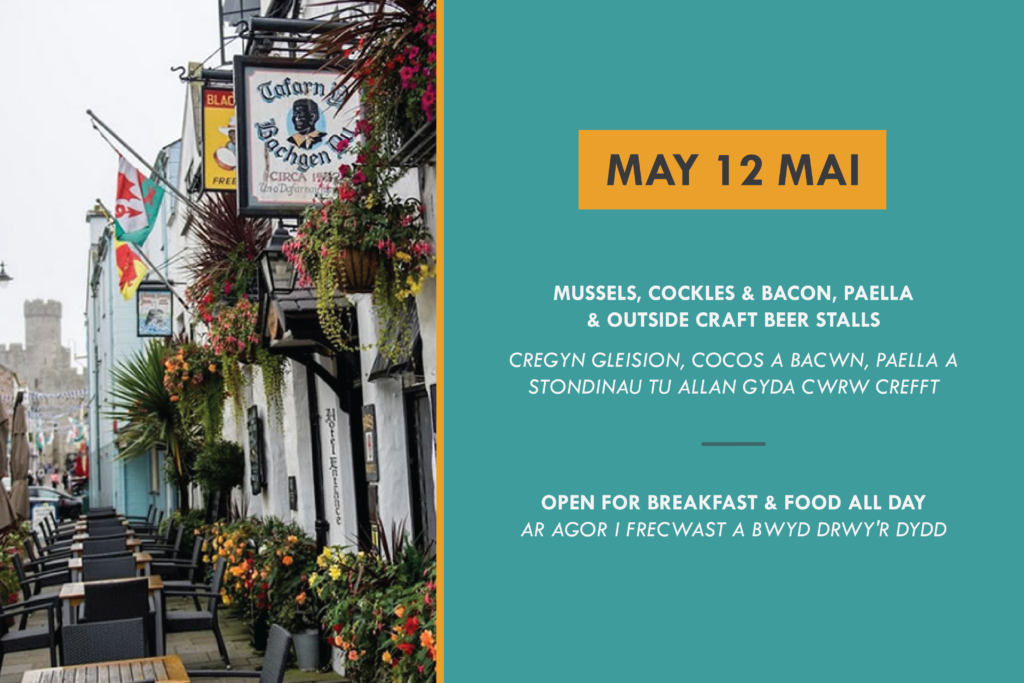 Byddwn yn cynnig amrywiaeth eang o fwydydd lleol sy'n ffres o lannau Gogledd Cymru – bwyd sy'n nodweddiadol o'r ardal leol. Dyw hi ddim yn gyfrinach bod Caernarfon wedi bod yn dref bysgota glan môr ers amser maith, lle mae llawer o nwyddau lleol ar gael i'w prynu.
Dyma gyfle i westeion yr ŵyl flasu ein Cerrig Gleision, Cocos, Bacwn a Paella enwog – yn ddelfrydol ar gyfer stumogau llwglyd ar ddiwrnod braf o haf. Wrth gwrs, peidiwch ag anghofio'r cwrw crefft gwych yn The Black Boy.
Nôl yn y pencadlys, byddwn ar agor am frecwast, a bydd ein bwydlen arferol o fwyd rhagorol ar gael drwy'r dydd!
Bwytewch, Yfwch a Byddwch Lawen!