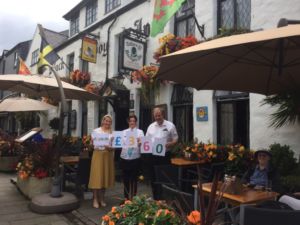 Donating to charity is something that we take a lot of pride in doing here at The Black Boy Inn, Caernarfon. It's a great way to give back to your local community, and makes a significant impact to the lives of the people who benefit from these amazing charitable events, and from the money that is kindly donated.
We chose to host a fund raiser for Tŷ Gobaith, or Hope House Children's Hospice, who are a charity that provide care and support to life-limited children, and to young people and their families in the Shropshire, Cheshire, North and Mid Wales areas.
Tŷ Gobaith offer a wide variety of services, including respite and end-of-life care at the hospices or family home, with support such as counselling, advocacy and the promotion of children, young people's and carer's rights.
The services that they offer are informal, but remains professional at all times, and remain fully committed to diversity with support being offered regardless of gender, sexual orientation, disability, class or age.
It is all of this and so much more that makes Tŷ Gobaith a notable charitable foundation, and one that The Black Boy Inn are honoured to be associated with.
We donated 50 pence from every rice pudding that we sold over the past 12 months in our restaurant. We would like to thank everyone who donated, as we were able to raise a total of £360 towards a truly fantastic cause.